Lake Placid Menus
Lake Placid Restaurant Guide
A complete list of Lake Placid restaurants on one page, just click a restaurant's name for their menu.
Add a
Menu/Restaurant/Event
Updated 11/24/14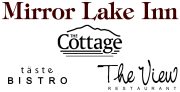 With three amazing dining options we have what you are looking for! From Lake Placid's only 4-Diamond Restaurant, to our more casual bistro, and The Cottage right on the lake shore.
Mirror Lake Inn

Overlooking the sparkling shores of Mirror Lake and anchoring Main Street - the hub of shopping, dining and entertainment in Lake Placid - is your new luxury hotel - a uniquely Adirondack retreat -
High Peaks Resort
The View Restaurant
4-Diamond, exceptional dining featuring savory foods in a relaxed ADK atmosphere
Taste Bistro & Bar
Panoramic view of Mirror Lake, friendly, casual atmosphere with food & drink as our focus
A - Ch
Aki Sushi & Japanese Restaurant
2724 Main St, Lake Placid, NY
518-523-5826
Alegria Garden Cafe
Cuisine: World Cuisine
Open for Dinner: World cuisine from local & organic products. Join us indoors or out.
2375 Saranac Ave, Lake Placid, NY
518-523-0342
Arena Bar & Grill
2639 Main St, Lake Placid, NY
518-523-4691
Artisans
144 Lodge Way, Lake Placid, NY
518-523-1124
Bazzi's Pizza
138 Main St, Lake Placid, NY
518-523-9056
Ben & Jerry's Lake Placid
83 Main St, Lake Placid, NY
518-523-7330
Big Mountain Deli & Creperie
2475 Main St, Lake Placid, NY
518-523-3222
Black Bear Restaurant
Cuisine: Fresh Seafood & Steaks
Lake Placid's Freshest Seafood & Best Steaks. Lunch & dinner 10am to 11pm, 7 days a week
2409 Main St, Lake Placid, NY
518-837-5166 - Lunch | Dinner
Bluesberry Bakery
26 Main St, Lake Placid, NY
518-523-4539
Breakfast Club
2490 Main St, Lake Placid, NY
518-523-0007
Brown Dog Cafe & Wine Bar
2409 Main St, Lake Placid, NY
518-523-3036 - Lunch Menu
Cabin Grill
2520 Main St, Lake Placid, NY
518-523-1818 - at The Northwoods Inn
Caffe Rustica
1936 Saranac Ave, Lake Placid, NY
518-523-7511
Cascade Inn
5023 Cascade Rd, Lake Placid, NY
518-523-2130
Chair 6 Restaurant
5993 Sentinel Rd, Lake Placid, NY
518-523-3630
China City
2431 Main St, Lake Placid, NY
518-523-8866
Every Menu in Town on One Page
(
with your help
)
Saranac Lake Restaurants
Burlington Restaurants
Co - J
Cottage, The
Cuisine: Pub-style Favorites
The place to meet in Lake Placid. Unique dishes. Wide selection of beer, wine & liquor
77 Mirror Lake Dr, Lake Placid, NY
518-523-9845 - at Mirror Lake Inn
Dancing Bears
Cuisine: Casual All-American
Open for breakfast, lunch & dinner featuring cozy all-American street-side dining.
2404 Main St, Lake Placid, NY
518-523-3619 - at High Peaks Resort
Delta Blue
2520 Main St, Lake Placid, NY
518-523-1818 - at Northwoods Inn
Desperado's
2090 Saranac Ave, Lake Placid, NY
518-523-1507
Downtown Diner & Bakery
2728 Main St, Lake Placid, NY
518-523-3709
Duncan's Grille
2302 Saranac Ave, Lake Placid, NY
518-523-9240 - Pines of Lake Placid - Seasonal
Ere's Pizza
2439 Main St, Lake Placid, NY
518-523-2997
Farm House Cafe
2726 Main St, Lake Placid, NY
518-523-2540
Fireside Steak House
229 Main St, Lake Placid, NY
518-523-2682
FreeStyle
2126 Saranac Ave, Lake Placid, NY
518-837-5228
Great Adirondack Steak & Seafood
2442 Main St, Lake Placid, NY
518-523-1629
Green Goddess Cafe
2051 Saranac Ave, Lake Placid, NY
518-523-4676
Grill 211
2617 Main St, Lake Placid, NY
518-523-5853
Howard Johnson Restaurant
2099 Saranac Ave, Lake Placid, NY
518-523-2241
Hunan Oshaka
2663 Main St, Lake Placid, NY
518-523-1588
Interlaken Restaurant
39 Interlaken Ave, Lake Placid, NY
518-523-3180 - Interlaken Inn
Jimmy's 21 Lakeside Dining
2425 Main St, Lake Placid, NY
518-523-2353
Johnny's Pizza Restaurante
8 Morningside Dr, Lake Placid, NY
518-523-2323
K - P
Kanu
7 Whiteface Inn Ln, Lake Placid, NY
518-523-0510 - Whiteface Lodge
Kento Japanese Steakhouse & Sushi
2663 Main St, Lake Placid, NY
518-523-7228
Lake Placid Pub & Brewery
813 Mirror Lake Dr, Lake Placid, NY
518-523-3813
Lisa G's
Cuisine: Bistro Comfort Food
Comfort foods with a modern twist, outdoor patio overlooks river waterfall
6125 Sentinel Rd, Lake Placid, NY
518-523-2093
Liquids and Solids
6115 Sentinel Rd, Lake Placid, NY
518-837-5012
MacKenzie's Restaurant
101 Olympic Dr, Lake Placid, NY
518-523-2556
Maggie's Pub
144 Lodge Way, Lake Placid, NY
518-523-1124
Main Street Pizza & Pasta
2673 Main St, Lake Placid, NY
518-523-5800
Mexico City
2663 Main St, Lake Placid, NY
518-523-3133
Milano North
2490 Main St, Lake Placid, NY
518-523-3003
Moose Lodge Boathouse
373 Whiteface Inn Ln, Lake Placid, NY
518-523-2551 - at Whiteface Club & Resort
Mykonos Restaurant
38 Saranac Ave, Lake Placid, NY
518-523-1164 - Woodlake Inn
Nicola's On Main
2617 Main St, Lake Placid, NY
518-523-5853
Outdoors at Dancing Bears
Cuisine: Casual All-American w/a View
Spectacular views of the mountains and Mirror Lake while relaxing by the stargazing fire pit.
2384 Saranac Ave, Lake Placid, NY
518-523-3619 - at High Peaks Resort
Pan Dolce
2166 Saranac Ave, Lake Placid, NY
518-302-5005
Paradox Lodge
2169 Saranac Ave, Lake Placid, NY
518-523-9078
Pete's Steakhouse
2431 Main St, Lake Placid, NY
518-523-3560
Players Sports Bar & Grill
2405 Main St, Lake Placid, NY
518--523-9902
Lisa G's
- by the river
R - Z
Redneck Bistro, BBQ & Grill
Cuisine: Barbecue & Grill
The best Southern BBQ and burgers in Lake Placid. Honest food at decent prices.
2192 Saranac Ave, Lake Placid, NY
518-523-8095
Saranac Sourdough
2126 Saranac Ave, Lake Placid, NY
518-523-4897 - Breakfast Menu
Simply Gourmet
1983 Saranac Ave, Lake Placid, NY
518-523-3111
Smoke Signals
2489 Main St, Lake Placid, NY
518-523-2271
Stephano's Italian Grill
2226 Saranac Ave, Lake Placid, NY
518-523-3662
Soulshine Bagel
2526 Main St, Lake Placid, NY
518-523-9772
Sugar Shack Dessert Co.
2567 Main St, Lake Placid, NY
518-523-7540
Taste Bistro & Bar
Cuisine: French-American Bistro
Panoramic view of Mirror Lake, friendly, casual atmosphere with food & drink as our focus.
77 Mirror Lake Dr, Lake Placid, NY
518-302-3000 - at Mirror Lake Inn
The Cowboy
2226 Saranc Ave, Lake Placid, NY
518-837-5069
The Good Bite Kitchen
2501 Main St, Lake Placid, NY
518-637-2860
The View Restaurant
Cuisine: Elegant Comfort Food
4~Diamond, exceptional dining featuring savory foods in a relaxed ADK atmosphere.
77 Mirror Lake Dr, Lake Placid, NY
518-302-3000 - at Mirror Lake Inn
Veranda Restaurant
70 Olympic Dr, Lake Placid, NY
518-523-3339
Villa Vespa Pasta
2250 Saranac Ave, Lake Placid, NY
518-523-9789
Wiseguys
11 School St, Lake Placid, NY
518-523-4446
Wyatt's Tex Mex
2525 Main St, Lake Placid, NY
518-523-2388